Bobbo
was a member of John Abruzzi crew inside the
Fox River State Penitentiary
and a former butcher.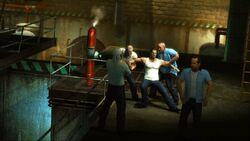 Biography
Edit
Background
Edit
From Italian descent, Bobbo worked as a butcher in the slaughter house of John Abruzzi in Chicago
Prison Break The Conspiracy
Edit
For an unknown reason, Bobbo was convicted in the Fox River State Penitentiary and continue to work for John Abruzzi. When John Abruzzi discovered that Tom Paxton was an undercover operative in Fox River he lure him into the sewers and asked Bobbo to cut him in pieces. This last punch him many times before being kicked out by Tom Paxton.
Appearances
Edit