Infobox needed
This article needs a new infobox template.
This article or section has been nominated for an update
The content should be updated to include new information that has been released, specifically Created by Karyn Usher.
You can help Prison Break Wiki by updating it.

Bruce Bennett is the Tancredis' family friend and also a political friend of Frank Tancredi. He's also an ally to the Anti-Company movement .
Biography
Edit
He can be first seen giving advice to Frank Tancredi before he was said to be promoted to the Vice President. (2x5) He was later visited by Sara regarding the whereabouts of her father. Bruce tells her that he is quite depressed because Reynolds withdrew his nomination as the VP suddenly. (2x7) When Sara was followed by an agent from the Company, she called Bruce and revealed her location. Soon afterward hitmen arrived, and nearly killed Sara. Sara became suspicious of Bruce. (2x8) He once again appeared in Frank Tancredi's grave, waiting for Sara. He reassures Sara that he is a "good guy" and led her to meet Cooper Green, a man that might be the key to Lincoln's case. (2x18) He can be seen accompanying Sara in her court. (2x22)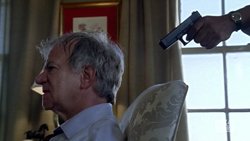 Bruce before his death by Wyatt
He can also be seen at the Roosevelt Hotel with a flute in his hand when Whistler is leaving with the card. (4x1)
Post-Death
Edit
He was killed by Wyatt after he gave the whereabouts of Sara.
Appearances
Edit