Wiki Targeted (Entertainment)
Play Sound
This article or section has been nominated for a cleanup
The content on this page may be out of place, overwritten, and/or contradictory.
You can help Prison Break Wiki by cleaning it up.
Infobox needed
This article needs a new infobox template.
Also known as:   Lang (by fellow agents)
Current Status:   Alive
Family:   Alexander Mahone (love interest)
First appearance:   Scan
Last appearance:   Free
Portrayed by:   Barbara Eve Harris


Felicia Lang is one of the FBI agents who helped Alexander Mahone with his case on the Fox River Eight.
Biography
Background
It was known that she is under Mahone's team as she knew what happened to Mahone's previous case on Oscar Shales.
Season 2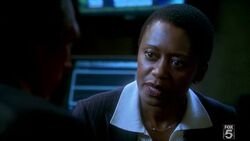 Felicia Lang
At first, she is assigned by Mahone to urge Kacee Franklin to betray her husband, which she was reluctant to participate in. Later, she does not hesitate in organizing a sting operation involving C-Note's wife in an attempt to capture C-Note. Unlike Agent Wheeler, Lang never verbally criticized Mahone's method. Thus, Mahone appears to trust her more and assigns her to follow Sara Tancredi, who they hope will lead them to Michael Scofield. They fail and arrest her promptly.
Season 3
She visits Alexander Mahone and tries to get him moved to an minimal security American prison with a shorter sentence. She tries to get Mahone his drugs when she notices he is restless because he has not got any drugs.But due to not having his drugs on time fails to answer questions asked by the jury on The Company. She then gets rid of the drugs before getting noticed and he is sent back to Sona.
Season 4
Felicia Lang helps Mahone by giving him information on his son's killer Wyatt. She attempts to arrest Mahone because of her orders but lets him escape. During the episode, "Killing Your Number," Lang is seen as Mahone's new romantic interest.
Prison Break: The Final Break
Lang tries to convince the board to give Alexander Mahone his old job back and gets him a deal with the agency.
Appearances
Episodes featuring Felicia Lang
Trivia
Community content is available under
CC-BY-SA
unless otherwise noted.