Wiki Targeted (Entertainment)
Play Sound
Jason Buchanan
Biographical information
Died:
Status:

Deceased

Cause of death:

Stabbed by a
Fox River inmate

Incarcerated in:
Physical description
Gender:

Male

Appearances

Season(s):
First appearance:
Last appearance:
Episode count:

2

Killcount
Attempted:
Other information
Created by:
Portrayed by:
Jason "Maytag" Buchanan, also known as Maytag, was T-Bag's boyfriend in season 1. T-Bag preferred Michael over Maytag when they first met, resulting in Maytags jealousy of Scofield. Thus, he tried to kill him during the riot. However, a black inmate under the command of C-Note stabbed him four times with a blunt screw. Maytag died shortly afterwards in Michael's arms.
Family
Biography
Background
Jason became at some point in his life the boyfriend of T-Bag. It's unknown if this already happened after T-Bag was sent to Fox River after Susan Hollander discovered the truth about him.
Season 1
Jason was first seen with T-Bag at T-Bag's table. T-Bag asked what he was doing, and Michael Scofield didn't reveal what he had been doing at all. Later, when Michael didn't see T-Bag, he was seen with his boyfriend, Jason again. Michael then gave the Allen 11121147 to T-Bag, who gave it to Jason. Not much later, Michael was going through the stuff from T-Bag and Maytag and Michael revealed that he wanted to be part of his gang. Michael was then going back to his cell.
When Ballard started the riot, Michael was put to the ground by a black inmate, Jason tried to kill him, but he was killed by a black inmate, at the time he tried to kill Michael. T-Bag yelled at Michael, and when Michael was safe back in his cell, T-Bag screamed it out at Michael.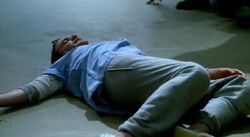 Maytag is going to die.
Post-Death
When Maytag was dead, he was brought to a place where the other people were who died. T-Bag then tried to take revenge on him with his gutter. However, John Abruzzi stopped him and asked for his help instead.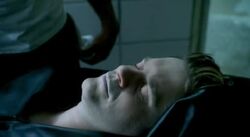 T-Bag looking at Maytag's dead body.
Appearances
Season 1
Season 2
Trivia
See also