Leticia Barris
Biographical information
Died:
Status:

Deceased

Cause of death:

Shot by Paul Kellerman

Physical description
Gender:

Female

Appearances

Season(s):
First appearance:
Last appearance:
Killcount
Attempted:
Other information
Portrayed by:
Leticia Barris is a witness of the Company's crime of murdering her boyfriend, Crab Simmons, and was visited by Veronica about Lincoln's case.
Biography
Edit
Veronica gets a call from Leticia Barris and said that she will give her some information, but only if they meet in a public place. (Allen)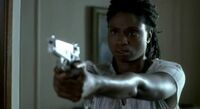 Paranoid, Leticia considers shooting Veronica incase she works for "them"
Leticia Barris walks in front of Veronica outside at Chicago's illennium Park. When Veronica raises the point that the coroner's report showed Crab died of an overdose, Leticia shoots back: Crab was killed because he knew too much about what was going on. Leticia becomes spooked, convinced she was followed. She runs away before Veronica can get more answers.
She was later kidnapped by Agent Hale and Kellerman. Kellerman instructs Hale to take her into the woods to dispose of her. Hale drags Leticia into the woods and forces her to the ground. Hale apologizes to Leticia for what he's about to do. But before he can pull the trigger, a train whistle startles him. Leticia uses the distraction to get up and start running. Hale fires, striking her in the leg. As Hale approaches, Leticia begs for her life shortly before she was killed by Kellerman when Hale hesitated to do so. (Cell Test)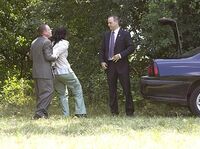 Barris shortly before her untimely death
Post-Death
Edit
Following her death, Daniel Hale said he couldn't do good yet.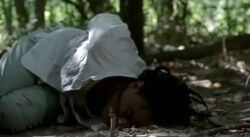 The death of Leticia Barris
Quinn later said that Veronica was responsible for her death along with Sebastian Balfour. (And Then There Were 7)
Veronica later mentioned when she was interviewed that McMorrow, Lisa Rix and Leticia Barris were killed, because they did know something and that her source would help her to give her the evidence. (End of the Tunnel)
Appearances
Edit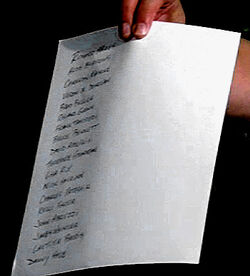 Leticia's name above's Daniel Hale's name.
Expanded universe
Edit
Community content is available under
CC-BY-SA
unless otherwise noted.