Wiki Targeted (Entertainment)
Play Sound
Lloyd Lowery
Biographical information
Born:

Unknown[1]

Status:

Alive

Incarcerated in:
Prison(s) visit(s):

Huntsville Minimum
Security Prison

Physical description
Gender:

Male

Affiliation:
Appearances

Season(s):
First appearance:
Last appearance:
Episode count:

23

Killcount
Kills:
Indirect:
Attempted:
Other information
Created by:
Portrayed by:
Lloyd Lowery is one of the Breakout Kings members working for Ray Zancanelli and Charlie DuChamp along with Erica Reed and Sean Daniels.
Family
Biography
Background
Season 1
After Season 1
Lloyd along with Shea and Erica were send to a safe house along with their family to protect theirself for Carmen Vega's group for two weeks.
Season 2
Appearances
Etymology
Trivia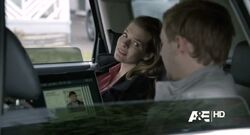 Lloyd's unseen information.
Lloyd likes cigars as seen in One for the Money.

Lloyd along with Shea had a cigar during episode 9.

Lloyd has met all the main characters.
Lloyd says the last line in season 1; let's get drunk.
Lloyd's information was too blurry to see on-screen in the Pilot along with Fritz Gunderson.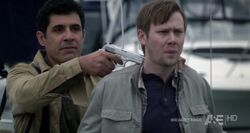 Ronald Barnes points a gun at Lloyd.
Lloyd has never captured a main villain or minor villain along with Julianne.
Lloyd did played as couple with Philomena Rotchliffer, while he has a crush on Julianne Simms.

Ironically enough, Lloyd never knew Philly actually, while playing together as couple, while he has a crush on Julianne, but Julianne seems to don't know this yet.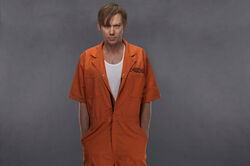 Lloyd Lowery's prison number.
Lloyd is the first main character who was mostly killed by another main character, Erica Reed.
Lloyd along with Julianne, Ray Zancanelli are the only Breakout Kings members who were not replaced or removed from the team or being killed.
Lloyd is the only main character who acted like a boss from one of their boss (Charlie DuChamp) in order to catch a criminal: Tran Jun.

Ironically enough, both Lloyd and Charlie would being involved in the death from Tran Jun, since he saw them. Erica Reed and Ray Zancanelli were later added as part of the team.

Lloyd along with Erica and Charlie did captured Carlos Zepeda, which thus did lead to the death of Tran Jun, since Carlos never showed up and he saw the Breakout Kings members.

Coincidentally enough, Lloyd was captured by Barnes instead of Lloyd capturing Barnes.

Lloyd acts like he is Charlie's boss.
Lloyd Lowery's prison number from Rahway State Prison can in fact not being seen in the Pilot episode. In fact, it maybe appeared in a promo picture.

It also could be the number from the prison, Maybelle.

Lloyd's prison number is 24636.
Lloyd's life was 3 times saved by Ray Zancanelli; the first time was when Erica Reed trying to strangle him, the second time was when Ronald Barnes planning to shoot him dead along with Charlie DuChamp and Ray himself, and the third time was when Damien Fontleroy shot Charlie DuChamp (who ended up dying) and pointed his gun at Lloyd, but was saved in time by Ray.
Lloyd's character receives the last credit in the Breakout Kings openings theme.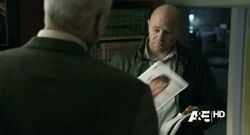 Lloyd's picture briefly appeared in Knox's hands given by Ray.
Notes and references
External links