Are you sure about this name?

The title of this article is conjectural. Although it is based on canonical information, the actual name is conjecture and may be supplanted at any time by additional information released from canonical sources. If this occurs, please move this page to the appropriate title.
Mr. Bagwell
Biographical information
Status:

Unknown

Physical description
Gender:

Male

Appearances

Season(s):
First appearance:
Last appearance:
Episode count:

3

Killcount
Indirect:
Other information
Portrayed by:
Mr. Bagwell is the father of Theodore Bagwell and the brother of Audrey Bagwell, who is as well the mother of Theodore Bagwell.
Biography
Edit
Background
Edit
Mr. Bagwell had a strained relationship with T-Bag since he was young, forcing him to be exceptional - unlike himself and the rest of the Bagwell family who were impressed T-Bag knew more than 10 words from the dictionary.
Brad Bellick mentioned that he raped his own mentally retarded sister and that T-Bag was born out of that incestous union.
Breakout Kings
Edit
T-Bag mentioned his dad while talking with Lloyd Lowery in a holding room at the Breakout Kings Headquarters.
Appearances
Edit
Prison Break universe
Edit
Breakout Kings universe
Edit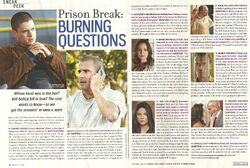 A newspaper showing Prison Break info