Cobra Kai Season 4 - The Loop
Play Sound
Are you sure about this name?

The title of this article is conjectural. Although it is based on canonical information, the actual name is conjecture and may be supplanted at any time by additional information released from canonical sources. If this occurs, please move this page to the appropriate title.
About
After he built the device into the case of a cell phone, Roland used it to steal credit card number and other personal information. He was caught by the Department of Homeland security and Agent Self gave him an option of going to prison, or to help Michael Scofield obtain Scylla.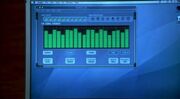 The device must be within several feet of the object it needs to read, and sometimes has difficulty reading data through safes and other metal objects. For a file as large as Scylla, it may take several minutes to copy the entire file. If the transfer is interrupted, it must start from the beginning of the file, it cannot pick up where it left off.
Appearances
Episodes featuring Roland's device