Wiki Targeted (Entertainment)
Play Sound
Directed by: Dwight H. Little
Written by: Nick Santora
Airdate :
7 November 2005
Airdate :
27 March 2006
External Recaps : IMDB
---
Season One Episodes :
 1. Pilot
 2. Allen
 3. Cell Test
 4. Cute Poison
 5. English, Fitz or Percy
 6. Riots, Drills and the Devil, Part 1
 7. Riots, Drills and the Devil, Part 2
 8. The Old Head
 9. Tweener
10. Sleight of Hand
11. And Then There Were 7
12. Odd Man Out
13. End of the Tunnel
14. The Rat
15. By the Skin and the Teeth
16. Brother's Keeper
17. J-Cat
18. Bluff
19. The Key
20. Tonight
21. Go
22. Flight
Episodes from Season: 1 • 2 • 3 • 4 • 5 • 6

"Sleight of Hand" is the tenth episode of the first season of Prison Break and the tenth episode overall. The episode introduces a new recurring character, Nika Volek, who also appears in the following episode. A secondary plot is featured in "Sleight of Hand" concerning the character Otto Fibonacci, who only appears once in the series.
Storyline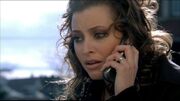 After John Abruzzi loses his power to control the prison industries (PI) when Philly Falzone ceases to pay Captain Brad Bellick, Michael Scofield and the other escape team inmates watch helplessly as PI is taken over. Abruzzi tells Michael the only way out is to tell his gang he still has control - and that means giving up Otto Fibonacci to them. Michael doesn't want to give up an innocent man's life, but ultimately hatches a plan with Abruzzi. Abruzzi's mob gang visits him in prison, then demands to know how Michael figured out the location. Michael explains that he did his homework - before they go into witness protection, they are in the custody of a local sheriff. Only one was out of town during Fibonacci's custody, and he made a lot of calls to his wife, which Michael intercepted.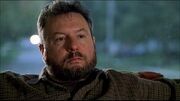 Abruzzi's Mobsters goes after Fibonacci, who they believe is in Canada. However, the RCMP cracks them before the assault. Fibonacci picks up a copy of a Kansas newspaper in the meantime. Abruzzi confronts Michael, asking him how he feels. Both men are pleased with the results, but soon fall mysteriously ill.
During a scene in the C.O. break room, Michael, Lincoln, Abruzzi and Sucre reveals where they want to go after they have escaped. Abruzzi says Sardinia, Sucre says he wishes to get back to Maricruz, and Michael quietly says to Lincoln that together they will go to Darien Gap, Panama to live and perhaps run a scuba shop.
Meanwhile C-Note has noticed the disposition of cement from the break team. He offers the new head of P.I. $150 a month to work with them. It is accepted. C-Note then uses his brains to figure out the escape plan. Once he finds the loose cement in the shack, he knows of the escape plan.
Trivia
Sleight of Hand refers to a magician's trick on changing balls. It is used to describe how Michael protected Fibonacci. It also refers to the deck of playing cards tattooed on his arm that turns out to be a phone number.
Recurring actors Frank Grillo and Michael Gaston were both regulars on the short-lived series Blind Justice, which was co-created by Prison Break writer Matt Olmstead.